When a Butterfly holds a smartphone → VIDEO
Turning an original idea into series production: a combined team from university and industry has been jointly developing an innovative design and production concept for a car smartphone holder. The rigid-flexible combination is produced by cost-effective multi-component injection molding.

What if a few industrial companies that are leaders in their particular field were to get together with a university institute to pool their creativity and expertise in a joint project to create a product that is not only practical but can also be manufactured cost-effectively by combining highly advanced processing methods with state-of-the-art materials?
The idea came about during a discussion about multi-component injection molding between experts from Momentive Performance Materials, ELMET and Wittmann Battenfeld.
Momentive took care of the LSR technology (LSR = Liquid Silicone Rubber), ELMET and Wittmann Battenfeld assumed responsibility for the production cell including the needle valve cold runner mold and the LSR dosing system. On the material side they succeeded in getting on board Covestro as producer of polycarbonate (PC). For the rheological design and the simulation of the flow behavior, the team was able to count on the many years of cooperation with Sigma Engineering. Hasco assumed responsibility for the design and gating of the hot runner system for the thermoplastic injection molding process. Last but not least, the Kunststoff-Cluster Niederösterreich is also supporting the project, promising a high benefit for all involved through the intensive exchange of information on the latest technologies and offering the students a direct insight into the practical side.

It all started with a competition
The students were asked to design a smartphone holder that could be fixed into any dashboard ventilation grille of a conventional car. It was to be rotatable for horizontal and vertical use (e.g. as a navigation system), and adjust flexibly to the typical dimensions of modern smartphones.
The specifications called for the use of the two-component injection molding method and also specified the rigid and flexible components (PC and LSR). The full potential of these materials, was to be fully exploited. The brief also stated that the two-component part should have a high-quality surface appearance and, looking ahead to a possible market launch, naturally exclude any infringement of patents etc.

Initial drafts with clear favorites
The presentation of the draft designs finally led to student Georg Siegele emerging as the clear winner with his Butterfly design. It beat off the other contestants through its well-conceived, functional design from both the production and the application side and his convincingly presented arguments.
Plastic-oriented design
In line with the specification, the design consists of a single two-component part, in which the PC holder provides stability and allows the part to be mounted on the ventilation grille, while the flexible smartphone connection is made of LSR.
"Butterfly" is suitable for the current smartphones and in the meantime, series production has started.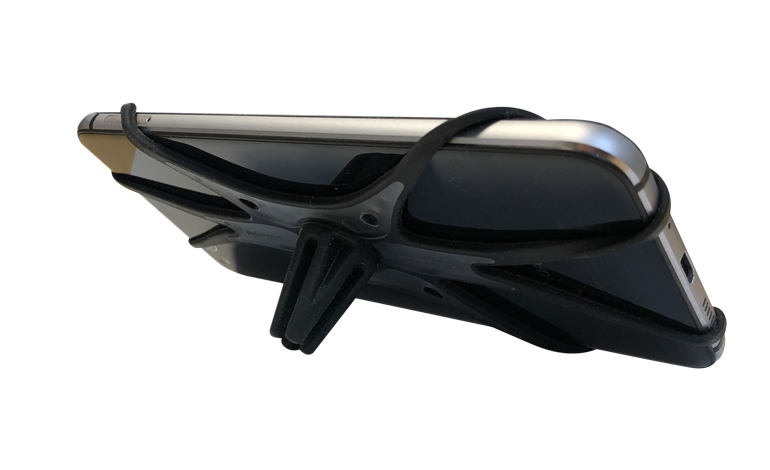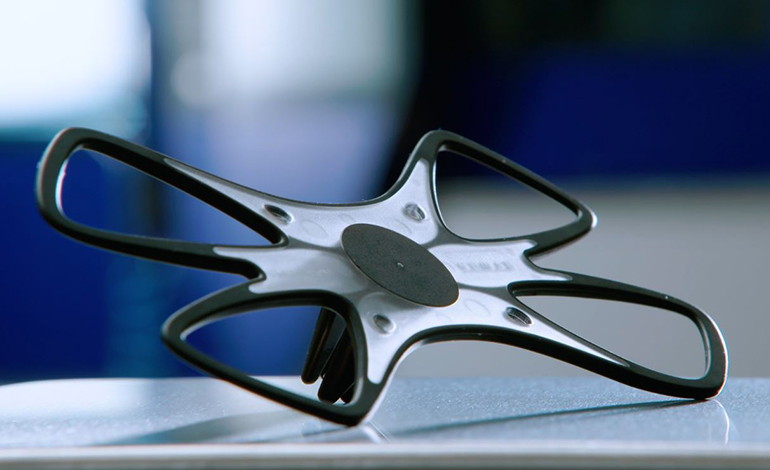 hide